Sports Betting In Mississippi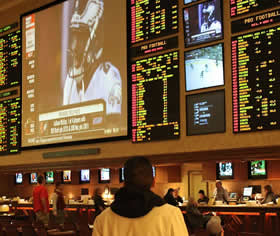 Sports fans in Mississippi have never had the ability to bet on sports until the online offshore sportsbook industry came into play. Nowadays the situation could not be more different: On May 14, 2018, the Professional and Amateur Sports Protection Act of 1992 (PASPA) was struck down by the US Supreme Court, and Mississippi quickly passed legislation to legalize sports betting at its Biloxi, Tunica, and other area casinos. That means that sports betting in Mississippi is either just a short drive down to the Gulf or up the Mississippi River, if you want to wager at land-based and riverboat-based venues. In fact, outside of Nevada, in a comparatively short time, Mississippi has become the US state with the most physical sports betting lounges in operation. In total, there are upwards of two dozen active sportsbooks in the state. However, there is no online option for those who wish to wager from home or on the go. In MS, if you want to bet on sports at a state-licensed book, brick and mortar is the only option.
Of course, folks in the Magnolia State were wagering on sports a long time before PASPA was overturned. This is because offshore sportsbooks – that is, Internet-based betting sites operating out of other countries – have been legal to use for MS residents for decades. If you want to bet via your mobile or from the comfort of your own home, these offshore Mississippi-friendly books are the only way to go. You just need to make sure you pick a good one, and that's what we're here for! Read on as we take a look at exactly which offshore sites offer the best sports betting qualities for Mississippi residents, and learn about the age requirements, banking details, teams available to bet on in the state, and more. We will also dive into the ramifications that the Supreme Court's decision on PASPA has for the future of sports betting in Mississippi and what bettors can expect from here on out. Don't forget: online betting is the future of the industry, so get with the times, learn more about sports betting, and sign up for your favorite sportsbook today!
How Does The Supreme Court Decision On PASPA Impact Sports Betting In MS?
Since online gambling and sports betting is a relatively new phenomenon in the grand scheme of things, very few states have had the time to pass legislation that either prohibits or regulates real money betting that takes place online. Mississippi is one of many states that is considered "unregulated" with regards to online wagering of any kind, and that includes sports betting in Mississippi done over the Internet. Though this "unregulated" status might seem like a scary situation and make you shy away from offshore books, this is actually a good thing for prospective sports bettors looking to do some wagering online.
How so? Well, in an unregulated online betting state like Mississippi, there is no way for you to get into trouble with the law – how could you if there is no law addressing the issue whatsoever? Because legislation does not exist to prohibit you from placing bets online, it is highly unlikely that you will ever run afoul of the law just for placing some bets on your favorite athletes and teams over the Internet. Before PASPA's overturn, Mississippi's lawmakers passed a law that protects daily fantasy sports (DFS) users and left the door open for operators to start offering sportsbook services at the casinos in Biloxi, Tunica, and elsewhere. What was missing from this 2017 law was any provision for online sports betting, even as it allowed for physical sports betting lounges at casino venues. Currently, there is no clear indication when exactly Mississippi will pass any online gambling legislation to make state-licensed Internet books legal, but you can rest assured that it'll happen eventually. Until then (and perhaps even afterward), offshore books are your best bet!
Is Online Sports Betting Legal In Mississippi?
Not yet. Right now, Mississippi is one of many states where online sports betting is considered "unregulated." For prospective players, this is a good thing. In an unregulated state like Mississippi, there is no way for you to get into trouble. Why? Because legislation does not exist to prohibit you from placing bets online. Offshore sports betting sites do not have to follow MS laws, and MS laws – like US federal laws – only address unlicensed domestic bookmakers. They don't go after individual bettors, and they can't go after offshore books. The effective upshot is that if you live in the Magnolia State and want to wager on sports over the Internet, you can safely and legally use an offshore sports betting site.
What Cities In Mississippi Have Sports Betting?
Mississippi is one of the largest sports betting states in the nation, with a gambling industry – and local gaming culture – that puts it up there with the heavy hitters like NV and NJ. When looking for what cities in Mississippi have sports betting, you will get results from all over the state. Biloxi is always the first to pop up, situated in prime vacation real estate along the Gulf Coast. Tunica, in the northwestern part of the state, serves millions of annual customers from surrounding states like Tennessee and Arkansas. Choctaw, MS, home of the tribal Pearl River Resort, is smack-dab in the middle of the state, making it a great destination for residents and visitors looking for a change-up to the standard gambling experience. All of these regions have live, active sportsbooks that operate every day, all year round. Even Greenville and Vicksburg have plenty of sports wagering options. Indeed, MS is the only state in America where legal, land-based sports betting is geographically accessible to everyone.
Which Sports Betting Sites Accept Mississippi Residents?
If you live in Mississippi and are interested in betting on sports online using real money, the only option you have is to find an accessible website – and that means that you are going to have to use a legal offshore sportsbook. PASPA, prior to being overturned by the US Supreme Court, allowed only a select few states to host land-based sportsbooks, but Mississippi was not on that list, and so the state never made any prohibitions against using online sportsbooks. However, there are plenty of safe, reliable, and trustworthy sports betting sites out there that are more than open to Mississippi residents. See below for more info!
Top Mississippi Sports Betting Sites
Rank
Online Sportsbooks
Bonuses Offered
Rating
US Players?
Play Now!





Other Types Of Gambling Available In Mississippi
Aside from the betting culture itself, Mississippi is known for its commercial casinos. Tunica (aka Tunica Resorts or Robinsonville), for example, is one of the most prestigious gambling destinations in the world. Some of the bigger casinos there include Tunica Resorts' Gold Strike, Fitzgerald's (aka Fitz Tunica), and Bally's. There are several other gambling areas in Mississippi as well, especially near Biloxi and along the Gulf Coast, and in Greenville and Vicksburg along the Mississippi River. New casinos are being built all the time, too, which may lead to a renewed interest in regulating online gambling and sports betting. It is important to note that Mississippi does not have a state lottery, but that one is finally launching after recently being legalized.
Does Mississippi Allow Pari-Mutuel Betting?
Mississippi is home to one of the biggest gambling counties in the country, though it does not have any Thoroughbred or greyhound racing. While a state lottery has finally been legalized, there is unlikely to be any action to bring horse racing to the state (and greyhound racing is all but dead in the US already, so that's off the table regardless). Horse racing betting requires significant infrastructure, though the state could allow simulcast pari-mutuel wagering at sports betting lounges in the future.
Mississippi Sports Betting Laws + Statutes
In order for you to safely gamble or place wagers for sports betting in Mississippi, it's important for you to have a basic understanding of state laws. As mentioned previously, there is no way for in-state residents to get in trouble for placing bets on the Internet. If you would like more information on the subject, you can check out the Fantasy Contest Act of 2017 here and the main body of MS gambling laws here.
How Old Do I Have To Be To Bet Sports Online In Mississippi?
The legal gambling age in Mississippi is 21 years old, but the age stipulation at all of the major offshore sportsbooks is just 18 years old. Obviously, the temptation to get started as soon as possible can be strong, but we have to recommend that you wait until you are 21 and stick with the state gambling laws before betting on sports in Mississippi, even at overseas sites. We want you to avoid any potential trouble that could follow you after gambling while technically underage, so our best advice is to just wait until you are 21 years old or older before you gamble in Mississippi, even if you are doing so online.
What Teams Can I Bet On In Mississippi?
There aren't any pro sports teams within the state, but Mississippi is the home of several major collegiate athletic programs like the Mississippi State Bulldogs, the Ole Miss Rebels, and the Southern Miss Golden Eagles. Players within the state can find betting odds on all of the major sports teams associated with their schools at all of the top sportsbooks we have recommended. These sites offer lines on sports all across the country and even some abroad so you don't have to only choose from Mississippi sports. And that's a good thing, because MS residents are big fans of major pro teams like the neighboring New Orleans Saints, Atlanta Braves, Memphis Grizzlies, and Nashville Predators, just to name a few!
Best Deposit Methods For Mississippi Residents!
Even though there are plenty of choices when it comes to bankrolling your wagering account, Bitcoin is arguably the best deposit method for Mississippi residents. Bitcoin, even among other cryptocurrencies like Dash and Ethereum, has quickly become the safest banking option in the online sports betting industry, as it has gained such quick popularity due to Bitcoin keeping its users essentially anonymous. Using Bitcoin allows you to avoid providing any personal information as you actually just use a Bitcoin address assigned to you for each transaction. Bitcoin also has some of the highest limits of any banking method, and it boasts the absolute fastest turnaround times, so depositing with Bitcoin is the best option for many sports betting enthusiasts in Mississippi.
What is juice?
Juice is another term for the "vigorish" (or "vig") that a house takes as a commission on a given spread, total, or prop bet. Essentially, it's the price of the wager, minus the actual risk. Juice is kind of like a tax or a cut of the profits, if you will. You will usually find the juice to be around 10% at most of the major sites (denoted by a moneyline of -110), but it does vary depending on the site or even the sport you are betting on. For example, if Jimmy bets $110 on the Bulldogs to cover the spread at -110 odds and they win, Jimmy pockets a cool hundred dollars for his $110 bet. The sportsbook keeps that extra $10 as juice. Juice is derived from winning bets only.
As a rule, MS sportsbooks, like all other sportsbooks, try their best to balance the action on any given bet to guarantee their vig. Nevertheless, it is possible for books to lose money if the action is too lopsided. This is actually something you have to look out for at local MS books, too. Depending on the teams in play, the books may have to raise their vig significantly to compensate for too much home team enthusiasm skewing the bets. If you want to bet on the Rebels, for example, you might get -130 odds on a spread bet at a local MS book. Online at an offshore book, however, that same exact bet might only carry odds of -105, saving you a bunch of money and making your payout that much bigger!