Silver Slipper Sportsbook Review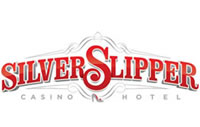 Silver Slipper Casino Hotel

Address:

5000 S Beach Blvd, Bay St. Louis, MS 39520

Phone:

228-469-2777
The Silver Slipper Casino Hotel in Biloxi, MS, is one of the more popular gambling destinations for locals, though visitors to the region will also find plenty to do on the premises. With sports betting currently being promoted front and center, this Silver Slipper sportsbook review aims to give you a brief but comprehensive rundown of all the great options awaiting your stay at the venue.
Overall, the Silver Slipper is one of the smaller, more intimate Biloxi casinos. Situated on the Gulf Coast, the Silver Slipper has amenities for everyone, from an on-site hotel with freshly updated, modern rooms and suites to a beachfront RV park with 35 private spaces and full sewer and power hookups (including 30 and 50 amp service). As for the Silver Slipper casino itself, there are nearly 1000 classic reel and modern video slots to choose from, 28 table games (blackjack, craps, roulette, etc.), and even a dedicated keno parlor – a rarity for Biloxi gambling hotspots.
Also on-site are several restaurants ranging from fine dining (Blue Bayou Bar & Grill) to casual dining (Jubilee Buffet, Palm Court Café), and there is free live entertainment at several locations throughout the property. Of course, the main attraction is the new sportsbook, and the Silver Slipper's offers more national and international action than any other Missouri wagering venue!
Is The Silver Slipper Sportsbook Open For Business?
Yes, the Silver Slipper sportsbook is open for business! Branded as the "Slipper Sports Book," the new attraction is not particularly suited for comfortable viewing during the games, though a sports betting lounge is in the works. For now, you can still watch the games on-site, but seating is limited. Unfortunately, one of the main knocks against the venue in most Silver Slipper sportsbook reviews is the fact that the ticket windows have comparatively short hours of operation, with closing times that – honestly – will have to be revised if the book hopes to stay competitive with other Biloxi sports betting sites. For now, the Silver Slipper sportsbook's hours of operation are as follows:
Silver Slipper Sportsbook Hours Of Operation:
Monday: 11 AM – 10 PM
Tuesday: 11 AM – 7 PM
Wednesday: 11 AM – 7 PM
Thursday: 11 AM – 10 PM
Friday: 11 AM – 10 PM
Saturday: 8 AM – 10 PM
Sunday: 8 AM – 10 PM
Does The Silver Slipper Sportsbook Offer Full Service Betting?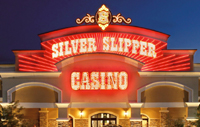 Yes! In fact, not only does the Silver Slipper sportsbook offer full-service betting, it's actually among the most robust and rounded-out out books in Biloxi. Indeed, this is the one aspect where nearly every Silver Slipper sportsbook review doubles down in its praise. The sportsbook at the Silver Slipper Casino offers betting on the NFL, NCAA football, Canadian football, Australian rules football, arena football, the MLB, college baseball and softball, NBA and WNBA action, NCAA basketball, Euroleague basketball, the NHL and international/collegiate hockey, soccer, golf, tennis, NASCAR racing, boxing, MMA, rugby, cricket, cycling, darts, eSports, lacrosse, rowing, and sailing. If you can't find something of interest to wager on in that massive list, then sports betting just isn't for you.
In addition to all the supported sports listed above, each contest on the boards has tons of odds and lines to choose from, as well. You can make spread bets, straight bets (aka moneyline bets), totals bets, player and team props, futures, and more. Plus, live betting extends these options even further, giving you thousands of chances to win big each and every day of the year sports betting in Mississippi.
Does The Silver Slipper Sportsbook Offer Mobile Betting?
Right now, the Silver Slipper sportsbook does not offer mobile betting. However, this is not an oversight on the part of the casino. Rather, Mississippi state law does not yet allow for a regulated Internet betting infrastructure, though this is actively being sorted out by MS legislators and should be rolled out in the near future. When official state-based Internet wagering comes to Mississippi, you can be sure that the Silver Slipper will be among the first venues to offer mobile betting and develop an iPhone and Android sports betting app.
Legal Minimum Age To Bet At The Silver Slipper Sportsbook?
The legal minimum age to bet at the Silver Slipper sportsbook is 21. This is a state law, and it applies to all MS casinos, commercial and tribal alike. That said, there are several legal offshore sportsbooks that accept MS customers, and these all only require bettors to be 18 years of age. However, it is always advisable to adhere to the state age limits when such restrictions are actually on the books. Whether you wish to bet on sports at the Silver Slipper sportsbook or over the Internet at an offshore betting site, it's best to wait until you're at least 21.
Does The Silver Slipper Sportsbook Have Proxy Betting?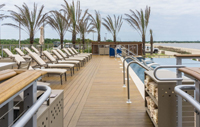 No, the Silver Slipper sportsbook does not have proxy betting available to its customers. Proxy betting was originally a workaround to the Interstate Wire Act of 1961, which makes it so bookmakers cannot accept bets across state lines. Because people often travel from state to state (or live in a state that doesn't have sports wagering), proxy betting allowed them to use a third party to place their bets in person at the casino of their choice. However, now that sports betting is becoming legal across the US and is under increased governmental scrutiny as a result, no new book wants to risk its status messing around with old Wire Act loopholes.
Plus, offshore sportsbooks accessible over the Internet have obviated the need for proxy betting altogether. For travelers and out-of-staters, these overseas sportsbooks will always be the best solution (as even in the era of mobile sports betting, the Wire Act will continue to prevent interstate wagering at state-regulated sportsbooks). If remote wagering is important to you, it doesn't matter how glowing any Silver Slipper sportsbook review is, you will need to sign up at an offshore book.
| Legal MS Sports Betting Sites | New Player Bonuses + Promos | Bet Now |
| --- | --- | --- |
| Bovada Sportsbook | $250 w/ 50% Match - Low Rollover | Click To Sign Up |
| BetOnline Sportsbook | $1K w/ 50% Match - Good For Life | Click To Sign Up |
| SportsBetting Sportsbook | $1K w/ 50% Match - Lifetime Bonus | Click To Sign Up |
| MyBookie Sportsbook | $500 w/ 50% Match - Welcome Bonus | Click To Sign Up |
| MyBookie Sportsbook | $500 w/ 50% Match - Welcome Bonus | Click To Sign Up |
| BetDSI Sportsbook | $500 w/ 100% Match - Lifetime Bonus | Click To Sign Up |