Resorts Casino Sportsbook Review
Resorts Casino Tunica

Address:

1100 Casino Strip Resort Blvd, Robinsonville, MS 38664

Phone:

866-706-7070
There are several Tunica resorts to choose from in the aptly-named Tunica Resorts, and the doubly-aptly-named Resorts Casino Tunica is one of the best on the Strip. While it's smaller in size and accommodations than many of its contemporaries in the region, it is uniquely cozy, and recent Resorts Casino sportsbook reviews paint a picture of more of that same intimacy as regards the new sports betting lounge at the venue.
However, Resorts was already high on gamblers' lists before its sports wagering services went live in the second half of 2018, as the 200-room hotel venue is home to every kind of traditional casino attraction. The gaming floor, while relatively small at just 35,000 square feet, is dense with gaming opportunities, from classic and modern slots and VLTs to electronic craps, roulette, blackjack, Buster Blackjack, 3-card poker, and more.
For those looking to get a bit of fresh air before hitting the table games or sportsbook, the River Bend Links Scottish-style golf course sits just adjacent to Resorts Casino Tunica, and it is one of the most popular outdoor destinations in Tunica Resorts. If you're looking to spend time out on the town, however, you'll need to venture about 40 minutes north to Memphis, Tennessee, which comprises almost all of the most popular tourist and cultural destinations for those visiting Tunica on gambling vacations.
Is The Resorts Casino Sportsbook Up And Running?
The Resorts Casino sportsbook is up and running, having launched in Q3 2018 after the US Supreme Court struck down the Professional and Amateur Sports Protection Act (PASPA, 1992) as unconstitutional. As one of the first Tunica Resorts sportsbooks to open to the public, it's not surprising that Resorts Casino sportsbook reviews have been generally positive.
However, there is a bit of a caveat: The Resorts Casino sportsbook is not actually located on-site at the venue. Instead, the sports betting lounge is located next door in the larger Hollywood Casino, which is Resorts' sister property. (There is a sports wagering kiosk located on the main Resorts floor, but for the full betting experience, you will have to go to the Hollywood.) The Hollywood Casino sportsbook operates during the following hours, though these are subject to change depending on the sporting season in play:
Resorts Casino Hours Of Operation:
Monday: 11 AM – 11 PM
Tuesday: 11 AM – 11 PM
Wednesday: 11 AM – 11 PM
Thursday: 11 AM – 11 PM
Friday: 11 AM – 11 PM
Saturday: 9 AM – 11 PM
Sunday: 9 AM – 11 PM
Does The Resorts Casino Sportsbook Have Full-Service Betting?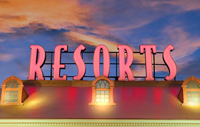 Yes, the Resorts Casino sportsbook does have full-service sports betting in Mississippi, in a manner of speaking. The Resorts Casino sportsbook reviews might erroneously claim that sports betting at the venue is limited to the mere kiosk options cited above. However, that's not actually true, as the main betting lounge is located at the Hollywood Casino just next door. There, you will find multiple HDTV screens displaying all the day's action. Additionally, the betting lounge features the single largest screen in Tunica, measuring a massive 12 feet by 24 feet, which is reserved for the marquee match(es) of the day.
The wagering options at the Resorts Casino sportsbook are almost unlimited, with full support for both American and international leagues. You can bet on the NFL, MLB, NHL, NBA, NCAA football, NASCAR, and more, while soccer, rugby, cricket, golf, tennis, and other globally popular athletic pursuits are also on tap. At the Resorts Casino sportsbook, you are able to place all kinds of bets, as well, from familiar spreads and straights to totals, player props, team props, futures, and more. You can even enjoy live betting, which allows you to wager on games as they play out in real time!
Does The Resorts Casino Sportsbook Offer Mobile Betting?
The Resorts Casino sportsbook does not offer mobile betting right now, but that is definitely in the works. In fact, no Tunica casino or Mississippi casino currently has iPhone betting or Android betting, as the state government is still working on the regulatory framework for Internet-based wagering in the state. Once online betting goes live in MS, however, you can expect the Resorts Casino sportsbook to launch its own sports betting app and fully support the important mobile betting initiative.
In the meantime, if you wish to wager on sports via your mobile device right now, you can legally do so only by visiting an offshore sports betting site. These overseas, online sportsbooks are 100% safe, secure, and free to use, and you are not breaking any laws in doing so. Until Mississippi has its own convenient mobile sports betting industry up and running, these reputable offshore books are the best solution.
Minimum Age To Legally Bet On Sports At The Resorts Casino Tunica
The minimum age to legally bet on sports at the Resorts Casino Tunica is 21 years old. This is a state law, and it applies to all casinos – both tribal and commercial – in Mississippi. That said, legal offshore sportsbooks only require their MS members to be 18 in order to sign up and bet, so that is technically an option. However, because MS has a defined state law re the legal sports betting age, it is best to stick to that. In other words, you can bet under the age of 21 in Mississippi, but it is not recommended.
Does The Resorts Casino Sportsbook Offer Proxy Betting?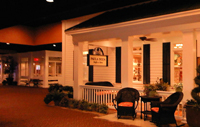 No, the Resorts Casino sportsbook does not offer proxy betting, as this is an old Wire Act workaround that isn't in favor these days. Because sportsbooks are forbidden by the Wire Act to accept wagers across state lines, out-of-staters and regular travelers would often use proxy services – third parties located on-site at their sportsbooks of choice – to place their wagers in person on their behalf.
However, thanks to the advent of mobile betting and Internet-based sports wagering via offshore sportsbooks, most folks don't even need proxy betting services anymore. As such, no newly-legal sportsbook is going to risk its operator status by offering a grey-area service that very few people would even use in this day and age. Any Resorts Casino sportsbook review that knocks the venue for failing to offer proxy betting can be dismissed offhand as out of date and antiquated.
If you want to wager remotely, you should join one or more legal offshore sportsbooks or simply wait for Mississippi to launch its own online betting initiative in the near future (though that latter will be geo-fenced, forcing bettors to physically be in MS to wager with MS-based online services).
| Legal MS Sports Betting Sites | New Player Bonuses + Promos | Bet Now |
| --- | --- | --- |
| Bovada Sportsbook | $250 w/ 50% Match - Low Rollover | Click To Sign Up |
| BetOnline Sportsbook | $1K w/ 50% Match - Good For Life | Click To Sign Up |
| SportsBetting Sportsbook | $1K w/ 50% Match - Lifetime Bonus | Click To Sign Up |
| MyBookie Sportsbook | $500 w/ 50% Match - Welcome Bonus | Click To Sign Up |
| MyBookie Sportsbook | $500 w/ 50% Match - Welcome Bonus | Click To Sign Up |
| BetDSI Sportsbook | $500 w/ 100% Match - Lifetime Bonus | Click To Sign Up |