IP Casino Sportsbook Review
IP Casino Resort Spa

Address:

850 Bayview Ave, Biloxi, MS 39530

Phone:

228-436-3000
The IP Casino Resort Spa is one of the finest Mississippi gambling destinations in Biloxi. Originally called the Imperial Palace Hotel and Casino Biloxi, the name changed when the property was sold to Harrah's, and its new IP moniker continues in the current era under the venue's Boyd Gaming ownership. In fitting with its "Imperial" name, the IP Casino sportsbook reviews are all pretty glowing in their appraisal of the amenities offered by the IP venue. From the actual betting boards to the types of wagers available, the IP Casino's sportsbook is definitely a world-class product perfect for the most discerning Mississippi sports bettors.
The IP Casino also offers all the other gambling festivities you've come to expect from a top-tier casino operation, including a 70,000-square-foot main floor, over 1600 slot machines, more than 60 classic table games, and more. There are several top-rated eateries on the premises, including two different AAA Four Diamond restaurants ("thirty-two" for surf and turf and "tien" for Asian fusion), and there's even a 1400-seat theater for nightly shows and entertainment acts. As for the hotel, it too is a first-class affair, with nearly 1100 rooms and suites for smokers and nonsmokers alike. For the latter crowd, there is also a 14-table poker room at the IP Casino Resort Spa, and there is a smoke-free slots area, too. At 32 floors and 335 feet in height, the IP Casino Resort Spa is the second tallest building in Mississippi (after the Beau Rivage, a competing Biloxi casino).
Is The IP Casino Sportsbook Open For Business?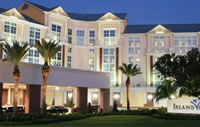 Absolutely! The IP Casino sportsbook is not only open for business, it was actually one of the first Mississippi sports betting venues to open its doors to the public after the Supreme Court struck down the Professional and Amateur Sports Protection Act (PASPA, 1992). The IP Casino's sportsbook, branded as the B*Thrilled Sports Book, is located next to the Highlights Sports Lounge, so you can enjoy comfortable seating and food and drink service while you watch the games after placing your bets. With 76 HDTVs to choose from, you won't miss a minute of any televised sports contest, regardless of the time of year (though football season is always the busiest and most action-packed).
The IP Casino sportsbook is open every day of the week, though like other land-based venues, it is not a 24/7 sports betting environment. (If your schedule means that you can typically only place your bets during the early morning hours, you should consider joining a legal offshore sportsbook, where you can place wagers at any time, easily and conveniently, over the Internet.) Please note that the following hours of operation are subject to change, though they are what you can typically expect:
IP Casino Hours Of Operation:
Monday: 10 AM - Midnight
Tuesday: 10 AM – Midnight
Wednesday: 10 AM - Midnight
Thursday: 10 AM - Midnight
Friday: 10 AM – Midnight
Saturday: 9 AM – Midnight
Sunday: 9 AM - Midnight
Does The IP Casino Sportsbook Offer Full-Service Betting?
Yes, the IP Casino sportsbook offers full-service betting for sports betting in Mississippi. This means that you aren't limited in the sports and wager types you have at your disposal. At the B*Thrilled IP Casino sportsbook, you can wager on every game of every major American sport, including the NFL, MLB, NBA, NHL, NCAA, NASCAR, and more. You can also bet on international sports like cricket, soccer, rugby, and dozens of other professional athletic contests. No matter what sport you're a fan of, you'll find plenty to wager on at the IP Casino.
That's only the tip of the iceberg, though. No IP Casino sportsbook review would be complete without mentioning the sheer scope of wager types available. For every single game covered each day, you'll get access to the main odds (spread bets, straights, and moneyline wagers), but you'll also get access to a whole host of player and team props, specials, and futures. Add to that the live betting on all the bigger US and global events, and you can expect to have thousands and thousands of chances to win every single day.
Does The IP Casino Sportsbook Offer Mobile Betting Services?
Right now, the IP Casino sportsbook does not offer mobile betting services. However, this will likely change in the near future (perhaps as soon as mid-2020), as the MS state legislature is reported to be planning the regulations and oversight standards of a state-wide online wagering rollout. The details at this time are scarce, but Mississippi clearly recognizes the need for the increased revenue that online betting access would provide for not only places like Biloxi, but also for the state's infrastructural needs as well. In the meantime, it's possible that the IP Casino will use is B*Connected app suit to allow venue-based sports wagering at its Biloxi property, but that functionality has not yet gone live.
While the timetable for statewide online and mobile Mississippi sports betting remains unknown, it's a sure thing that as soon as it's available, the IP Casino will be among the first sportsbook venues to offer an online and mobile product to take advantage of this. In the meantime, if you want to place bets remotely on your iPhone or Android device, you can easily and legally do so by using an overseas sportsbook over the Internet. And given the "geo-fencing" that state-based online gaming will require per compliance with the federal Wire Act of 1961, these offshore options might be your best bets for the foreseeable future.
What Is The Minimum Age To Wager On Sports At The IP Casino?
The legal minimum age to wager on sports at the IP Casino B*Thrilled sportsbook is 21 years old. This is a hard rule and applies to all MS casinos. If you wish to wager below the legal age, offshore sportsbooks that serve MS residents only require their users to be 18, though it is highly recommended that you stick with the state's legal limit of 21 regardless of which avenue you choose. Bettor safe than sorry!
Does The IP Casino Offer Proxy Betting?
Proxy betting has fallen out of fashion, and as such, the IP Casino does not offer proxy betting for its sportsbook. A long time ago, proxy betting was used primarily by those wishing to circumvent the Wire Act, which nominally bans interstate wagering. Thus, if an out-of-stater wanted to place a wager, he or she could simply use a third-party service that would place their bets for them on-site. Since this exists in a sort of legal grey area – and since sports wagering is under a lot of newfound scrutiny as it's legalized and regulated across the country – no books are willing to take the chance to push their luck. And that makes a lot of sense. As with all kinds of betting, you gotta know when to hold 'em and when to fold 'em. After all, a good IP Casino sportsbook review won't mean a thing if the venue gets shut down for breaking the law.
| Legal MS Sports Betting Sites | New Player Bonuses + Promos | Bet Now |
| --- | --- | --- |
| Bovada Sportsbook | $250 w/ 50% Match - Low Rollover | Click To Sign Up |
| BetOnline Sportsbook | $1K w/ 50% Match - Good For Life | Click To Sign Up |
| SportsBetting Sportsbook | $1K w/ 50% Match - Lifetime Bonus | Click To Sign Up |
| MyBookie Sportsbook | $500 w/ 50% Match - Welcome Bonus | Click To Sign Up |
| BetDSI Sportsbook | $500 w/ 100% Match - Lifetime Bonus | Click To Sign Up |