Boomtown Casino Sportsbook Review
Boomtown Casino Biloxi

Address:

676 Bayview Ave, Biloxi, MS 39530

Phone:

228-435-7000
Before getting into the meat of this Boomtown Casino sportsbook review, a little background is necessary. The Boomtown Casino Biloxi began preparations for its sportsbook in 2017, anticipating that the US Supreme Court would overturn the Professional and Amateur Sports Protection Act (PASPA, 1992), thereby lifting the federal prohibition on Mississippi casinos from offering legal sportsbook services to their customers. This law, HB 967, also legalized daily fantasy sports (DFS) in the state, and once PASPA was overturned in May 2018 as expected, the race was on to get MS sportsbooks up and running. Later that year, Boomtown became one of the first wave of MS casinos to open its doors to sports bettors.
Of course, even though sports betting is the new hotness, it's definitely not the only game in Boomtown. The venue is home to a 24-hour casino floor with over 1100 slot machines (both reel and video), and the smoke-free second floor is a breath of fresh air for a generally more health-conscious public. The Boomtown Casino also has dozens of table games to choose from, including classic gambling mainstays like blackjack, roulette, craps, and more. Additionally, while the Boomtown doesn't have an on-site hotel, it is the only Biloxi casino with an attached RV park, located just 5 minutes from the Gulf!
Is The Boomtown Sportsbook Open To The Public?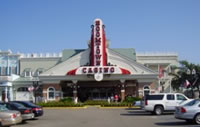 Yes, the Boomtown sportsbook is open to the public! As one of the first Mississippi sports betting venues to open its doors post-PASPA, the availability of legal sports wagering at Boomtown has already caused substantial increases in customer traffic to the facility. Naturally, that's very good news for the casino, and it's good for the city of Biloxi as well.
So far, every Boomtown Casino sportsbook review has given the pastime's implementation top marks, and you can wager on your favorite athletic matchups 7 days per week. The following hours are when you can expect to place your wagers at the Boomtown sportsbook ticket windows (though these are subject without notice):
Boomtown Casino Hours Of Operation:
Monday: 10 AM – 10 PM
Tuesday: 10 AM – 10 PM
Wednesday: 10 AM – 10 PM
Thursday: 10 AM – 10 PM
Friday: 10 AM – 11 PM
Saturday: 8 AM - 11 PM
Sunday: 8 AM - 11 PM
Does The Boomtown Sportsbook Have Full-Service Betting?
Yes, the Boomtown sportsbook has full-service betting. This means that you can wager on just about any US sport, including all the games from top leagues like the NFL, MLB, NBA, NHL, and NCAA. In fact, you can also bet on a number of matchups from around the world, with sports like soccer, rugby, cricket, tennis, golf, and MMA/boxing all represented.
In addition to all the games on the betting boards, there is also a whole host of wager types to choose from for sports betting in Mississippi. All the top Boomtown sportsbook reviews point out that spreads, straight moneylines, and totals (aka over/under bets) are available, but many don't also tell you that player props, team props, futures bets, and specials are also available. On top of that, you can add pretty much any wager to a multi-bet parlay card, maximizing your potential returns.
Can You Wager At The Boomtown Casino Sportsbook On Your Mobile Device?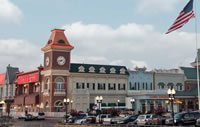 Currently, you cannot wager at the Boomtown Casino sportsbook on your mobile device. However, this is not an oversight by the state of Mississippi. Instead, it is simply taking the state longer than expected to roll out the online component of its sports betting plans. However, you can expect every Boomtown Casino sportsbook review to update its ratings the moment Internet-based sports wagering goes live in the state, as that will make it easier and more convenient than ever to put money on Boomtown's valuable, comprehensive odds and lines.
While there is no telling when online sports betting and mobile betting will come to the Boomtown Casino, you actually don't have to wait in order to place wagers over the Internet. By using a legal offshore sportsbook that serves the Mississippi area, you can wager over the Internet right now without breaking a single state or federal law.
What Is The Minimum Betting Age At The Boomtown Sportsbook?
The minimum betting age at the Boomtown sportsbook is 21, which is how old you have to be to wager in Mississippi's casinos. There are no exceptions to this rule. That said, in order for MS residents to wager at legal online sportsbooks, the minimum age requirement is only 18. Nevertheless, it is always best to defer to state law in these matters, so signing up for and wagering at offshore sports betting sites is not recommended for anyone under 21 years of age.
Does The Boomtown Sportsbook Offer Proxy Betting?
Proxy betting was originally conceived as a workaround of the Interstate Wire Act. This law, established in 1961 and still active, forbids US-based sportsbooks from accepting wagers across state lines. As such, proxy betting services came about to allow out-of-state bettors to place wagers by using contracted third parties to place these bets. Because of the significant legal grey area of this tactic, every Boomtown Casino sportsbook review should be quick to point out that no MS gambling house allows this.
If you live in MS but spend a lot of time out of the state (or travel internationally), the only way to not allow this to interrupt your betting and impact your bankroll is to use a legal offshore sports betting site that is not bound by the US Federal Wire Act. Remember, even when mobile betting launches in Mississippi, iPhone and Android betting apps – as well as web browser portals – will be geo-fenced. That is, the moment you are outside of MS, you will not be able to place your bets. For these occasions, legal overseas sportsbooks offer the best and most convenient solution.
Top Mississippi Sports Betting Sites
Rank
Online Sportsbooks
Bonuses Offered
Rating
US Players?
Play Now!