Treasure Bay Sportsbook Review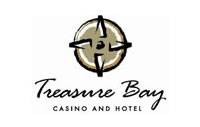 Treasure Bay Casino and Hotel

Address:

1980 Beach Blvd, Biloxi, MS 39531

Phone:

228-385-6000
The Treasure Bay Casino and Hotel isn't the largest gambling destination in Biloxi, but it makes up for its diminutive size with its intimacy and attention to detail. To wit, every Treasure Bay sportsbook review that has been published since the pastime went live at the property in 2018 points out how great the William Hill-powered experience is. And honestly, as one of the only sports betting sites in Mississippi that has officially partnered with William Hill, that adulation is well-placed. The Treasure Bay Casino and Hotel couldn't have picked a better sports betting bookmaker as its partner.
But this dedication to comfort and quality doesn't stop at the venue's sportsbook. Rather, the entire resort experience at Treasure Bay is an upscale and thoughtful affair. Example: The hotel only has 195 rooms. That's pretty limited (and reservations are thus definitely recommended). However, despite having so few rooms compared against other Mississippi casinos, every single one of Treasure Bay's rooms has a beachfront, panoramic view of the Gulf of Mexico.
In addition to the expected hotel amenities (spas, pools, Jacuzzis, etc.), the Treasure Bay is also home to five excellent restaurants and bars, including the four-star-rated CQ for steak and seafood and "blu," which is a soothing cocktail bar that opens daily at 5 PM.
Is The Treasure Bay Sportsbook Open For Business?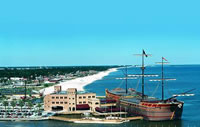 The primary attraction at the Treasure Bay Casino and Hotel – at least for the time being – also happens to be its newest attraction (which is usually how these things play out): the sportsbook. The venue, officially called The Sports Book and powered by William Hill, is extremely popular, and since it's located on the first floor of the casino (next to The Den, which offers casual dining 24/7), it's also readily accessible by all patrons. Best of all, the Treasure Bay sportsbook has the best hours of operation on the entire Mississippi coast. (You'll only find better hours at legal offshore sportsbooks on the Internet, as those are open to accept wagers 24 hours per day.)
Treasure Bay Casino Hours Of Operation:
Monday: 10 AM - Midnight
Tuesday: 10 AM - Midnight
Wednesday: 10 AM - Midnight
Thursday: 10 AM - Midnight
Friday: 10 AM - Midnight
Saturday: 8 AM - Midnight
Sunday: 8 AM - Midnight
Does The Treasure Bay Sportsbook Offer Full-Service Betting?
The Treasure Bay sportsbook offers a host of full-service, top-tier options for sports betting in Mississippi, which means that just about any sport you can think of is covered. You can place spread bets, totals (over/under) bets, straights, player props, team props, futures, and specials across multiple supported national and international sports and leagues, including the NFL, MLB, NBA, NHL, NCAA, soccer, rugby, cricket, golf, tennis, and many more. You can even combine multiple wagers into a single ticket (called a parlay bet) to maximize your payout potential!
Does The Treasure Bay Sportsbook Have Mobile Betting?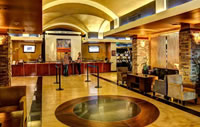 The Treasure Bay sportsbook does not yet offer mobile betting on its premises (which is legal), nor does it offer statewide sports betting via its William Hill book (which is not, yet). This is due to the state of Mississippi being deliberately slow with its Internet sports betting regulations, though they are on track to be launched in the near future, perhaps as soon as the middle of 2020. Of course, if you have an iPhone or Android device and wish to wager on sports via mobile, you can still do that, safely and legally, by visiting a legal online sportsbook that operates from overseas.
Most all of the top books in the business accept MS residents as customers, and you can join several in order to shop around for the best lines. These books require no special sports betting apps to download – simply visit your favorite site or sites via your mobile browser, and you can bet on all the players and teams you want from wherever you are.
What Is The Minimum Age To Bet At The Treasure Bay Sportsbook?
The minimum legal age to bet at the Treasure Bay sportsbook by William Hill is 21 years old, as mandated by the state of Mississippi. Some Treasure Bay sportsbook reviews might suggest that you can actually bet at 18, but this isn't the case. In fact, you won't even be allowed access to the casino floor at 18. Technically, if you decide to use a legal offshore betting site to place your wagers, you only need to be 18 to sign up and place your bets, though it is highly advised that – since Mississippi already addresses the legal sports betting age in its state laws – you abide by the rules and regulations of MS. Long story short: No matter where you decide to bet in Mississippi, wait until you're at least 21 to do so.
Does The Treasure Bay Sportsbook Offer Proxy Betting Services?
The Treasure Bay sportsbook does not offer proxy betting services, and you aren't going to find any Mississippi casinos that do. Originally, proxy betting was intended as a workaround or sports betting loophole of the Wire Act, which was a federal law that forbids bookmakers from accepting wagers across state lines. Since many bettors couldn't physically be present at a given casino to place their bets, they would hire third-party representation to place their wagers on-site in their steads. This activity was always a legal grey area, and with the newfound legality of sports wagering in Mississippi and elsewhere in the US, no regulated book is willing to risk their licenses to offer this marginal service.
With mobile and Internet betting on the horizon, the need for proxy betting is further negated, although it is important to remember that online wagering offered by in-state MS establishments will be geo-fenced, meaning bettors will still have to physically be inside the state to make their bets. The only way for frequent travelers to enjoy an uninterrupted wagering experience during their favorite sports seasons is to use an offshore sportsbook, as these are not geo-fenced and can be accessed from anywhere in the world.
| Legal MS Sports Betting Sites | New Player Bonuses + Promos | Bet Now |
| --- | --- | --- |
| Bovada Sportsbook | $250 w/ 50% Match - Low Rollover | Click To Sign Up |
| BetOnline Sportsbook | $1K w/ 50% Match - Good For Life | Click To Sign Up |
| SportsBetting Sportsbook | $1K w/ 50% Match - Lifetime Bonus | Click To Sign Up |
| MyBookie Sportsbook | $500 w/ 50% Match - Welcome Bonus | Click To Sign Up |
| BetDSI Sportsbook | $500 w/ 100% Match - Lifetime Bonus | Click To Sign Up |