The History Of Gambling In Mississippi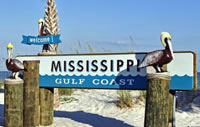 After Nevada and New Jersey (and possibly Pennsylvania), the US state best known for its gambling amusements and hotel-casino venues is Mississippi. With two significant gambling destinations in Tunica and Biloxi (and to a lesser degree in Greenville and Vicksburg), Mississippi has long been one of the preeminent spots for those seeking luxurious gambling getaways and exciting, fun-filled vacations with something for everyone. And that's what the history of gambling in Mississippi has always been about: Something for everyone.
Mississippi's first "official" (if not entirely legal) foray into gambling – not counting the completely unregulated or unorganized gambling of the colonial era – goes back to the 1800s and saw its roots take hold in the antebellum (pre-Civil War) period. During this time, the Gulf of Mexico region of Mississippi (a roughly 60-mile stretch of coastline along the bottom border of the state) became a natural tourist destination for folks from surrounding areas, including Florida, Georgia, Alabama, and Louisiana.
Beach-going tourism really picked up after the Mississippi Territory was admitted to the Union as a state in 1817. Summer homes for the wealthy abounded in the region, as did rental properties like beachside cottages and the like. Naturally, at this time, there was a tremendous amount of unregulated gambling in Mississippi along the coast, but the practice wasn't commercialized until much later – and even then, it wasn't explicitly legal, becoming more or less the area's "worst-kept secret." Gambling no doubt contributed to southern Mississippi's growth as a tourist destination during this time.
After the Civil War disrupted the local MS economies and put a damper on holidays and vacations in general, the end of the war brought with it the reestablishment of tourism and gambling in Mississippi. Railroad access helped more and more Americans visit the region, and local non-gambling industry – like fishing and construction – gave the economy a much-needed boost, as well.
The First Casino In Mississippi
Biloxi, which is located on the Gulf coast and is the city most associated with the history of gambling in Mississippi, saw its first official casinos open in the 1940s. While still not technically legal, the practice was viewed as an economic booster and was allowed to propagate, with the first Biloxi casino opening at the Broadwater Beach Resort in or around 1939. (This resort, renamed over the years to the President Casino Broadwater Resort, closed on July 31, 2005, after nearly 70 years in business.) Unfortunately, this heyday of casino gaming in Biloxi didn't last long, as there were serious crackdowns on gambling in the region during the 1950s and most of the Civil Rights era. Until the 1990s, casino gambling in MS was effectively outlawed at the retail level (although it continued to go on via various street-level, backdoor, and black market means).
New Mississippi Casino Districts
After a long hiatus, gambling was formally legalized in Mississippi in the 1990s with the passage of the Mississippi Gaming Control Act in 1990. This effectively established the immediate construction of two new Mississippi Casino districts – one in Biloxi, and one at the state's northwestern corner in Tunica.
Tunica, Mississippi, followed Biloxi's model, using the increased access to in-state betting to improve its local economy. Indeed, the strategy worked, and Tunica – which was until then one of the poorest communities in MS and one of the most impoverished municipalities in all of America – suddenly turned its economy around as more and more visitors from outside the state started patronizing its charming riverboat casino venues. While Tunica is still decidedly destination number two in the history of gambling in Mississippi, it is a far cry from what it once was, and the area is definitely worth a visit to any casino gaming enthusiast.
History Of Sports Betting In Mississippi
Even though Mississippi has been a legal gambling mecca for over three decades now, the state was always missing one huge piece of the gambling puzzle: sports betting. Indeed, thanks to the Professional and Amateur Sports Protection Act (aka PASPA) passed in 1992, it was actually illegal for MS to offer sports wagering of any kind, and the state – having just instituted proper casino gaming as a legal enterprise some two years prior to PASPA's passage, was not able to establish sports betting under the law's grandfathered exemptions. Fortunately, the US Supreme Court ruled that PASPA was unconstitutional, and the history of sports betting in Mississippi is now being written on a daily basis.
Interestingly, the history of gambling in Mississippi, in terms of sports betting, actually started just over a year before PASPA's overturn, with the passage of HB 967, aka the Fantasy Contact Act. This law was signed by state governor Phil Bryant (R) and went into effect July 1, 2017. Language in the bill, which legalized and regulated the popular Daily Fantasy Sports (DFS) pastime (as provided by brands like DraftKings and FanDuel), also removed the sports betting prohibitions that were previously established in the Mississippi Code. Thus, the law was set up to legalize sports betting in Mississippi the moment PASPA was overturned, which happened almost one year later in May 2018. Mississippi took its first legal sports wagers at the Beau Rivage in Biloxi and at the Gold Strike in Tunica on August 1, 2018.
As a final coup for the gambling-minded Mississippi legislature and governor Phil Bryant, the state finally authorized the legal implementation of a lottery. The law allowing this, SB 2001, was signed on August 31, 2018, establishing the Mississippi Lottery Corporation. Undoubtedly, 2018 will go down as one of the most impactful years in the history of gambling in Mississippi.
A Brief History of Gambling In Biloxi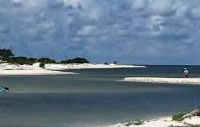 The history of Biloxi is a long and storied one, with an indelible place in the folklore and tradition that represent the region to this day. However, much of the area's colorful past doesn't concern gambling, and in order to illustrate a brief history of gambling in Biloxi, we can insert ourselves into the mix right after Mississippi attained statehood in 1817.
Both before and after the US Civil War, Biloxi – thanks to its temperate location on the Gulf of Mexico and its proximity to cultural centers like New Orleans, LA – was highly regarded as a vacation and resort destination. The local economy was heavily based on seafood processing in the early 1900s, and the area's Keesler Field would become one of the most widely-used military depots and training sites in the US. (Biloxi is now home to Keesler Air Force Base.) This spawned all kinds of cottage service industries, and in no time, Biloxi's first casinos opened, as military service members and vacationers alike held the activity in high regard.
The first casino in Biloxi is reputed to be the Broadwater Beach Resort, where illegal gambling was held, leading to the region's designation as "the Poor Man's Riviera." In the late 1990s, legal gambling emerged in Mississippi, finally allowing Biloxi to reach its full potential as a world-renowned, all-in-one gambling destination. While Hurricane Katrina did tremendous damage to the area in 2005 and led to the destruction of a number of casino properties, most of these were rebuilt to withstand future storms and remain in popular operation to this day.
A Brief History of Gambling In Tunica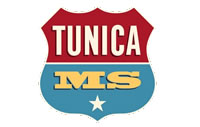 Like Biloxi, Tunica's history is long and colorful. However, when it comes to gaming in general, the history of gambling in Tunica is quite a lot less involved – and quite a lot more recently built – than Biloxi's. Before 1990, Tunica was not a noteworthy destination, and it was one of the poorest, dirtiest areas in America, famous only for its open-sewer neighborhood dubbed "Sugar Ditch Alley." With the introduction of casino gaming in Tunica, of course, that all changed practically overnight, and Tunica – thanks to its proximity to Memphis, Tennessee (just an hour's drive away) – became a thrilling casino destination, at one time being the third-richest casino strip in the US (after Las Vegas, NV, and Atlantic City, NJ).
While Tunica was the nominal focal point of northern Mississippi's casino initiative in the 1990s, the area where all the casino resorts were actually built is just slightly north of Tunica proper, located on the Mississippi River in a town fittingly named Tunica Resorts. This small municipality used to be called Robinsonville, but in an effort to market itself as a premier gambling destination and to reduce confusion among visitors who were prone to look south into Tunica for all the Tunica casino destinations, the town elected to rename itself in a manner that made it more readily searchable. This is, in many ways, an early physical example of "search engine optimization," as the area believed its new name would make it easier to pinpoint on maps and the like. Needless to say, the strategy worked!
Though Tunica Resorts' casino industry was not impacted by 2005's Hurricane Katrina like Biloxi's industry was, 2011 saw plenty of devastation during the Mississippi River floods in the region. Luckily, Tunica Resorts' many casinos are all based on barges and thus were able to survive the rising waters, but much of the town's infrastructure was wiped out, and most resorts' hotel properties – which, unlike the actual gaming floors, were built on dry land – were closed for extensive repairs. However, the area is definitely back on its feet, and with sports betting taking root in Tunica, the history of gambling in Mississippi is on another major upswing.
| Legal MS Sports Betting Sites | New Player Bonuses + Promos | Bet Now |
| --- | --- | --- |
| Bovada Sportsbook | $250 w/ 50% Match - Low Rollover | Click To Sign Up |
| BetOnline Sportsbook | $1K w/ 50% Match - Good For Life | Click To Sign Up |
| SportsBetting Sportsbook | $1K w/ 50% Match - Lifetime Bonus | Click To Sign Up |
| MyBookie Sportsbook | $500 w/ 50% Match - Welcome Bonus | Click To Sign Up |
| BetDSI Sportsbook | $500 w/ 100% Match - Lifetime Bonus | Click To Sign Up |
What Is The Future For Gambling In Mississippi?
History tends to repeat itself, and the gambling landscape in Mississippi is no different. To that end, we are once again in a gambling heyday in MS, and while there's no end in sight, it's always tricky predicting what's going to happen too far down the line. However, the near-term future is a little easier to piece together. In Mississippi, you can expect a couple of things. First, you can expect the state's recently-legalized lottery to take off in a big way and become a gambling industry staple. Secondly, you can expect the state to legalize online sports wagering at domestic, state-licensed websites sometime before the end of 2020. Thirdly and finally, you can expect at least some discussion of legalizing pari-mutuel simulcast horse racing betting in the state. While the construction of actual tracks is unlikely, the increased interest in sports betting and casino gaming has a very strong chance of pushing renewed interest in the ponies.