Bok Homa Sportsbook Review

Bok Homa Casino

Address:

1 Choctaw Rd, Heidelberg, MS 39439

Phone:

866-447-3275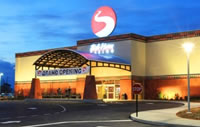 As the sister casino of the Pearl River Resort near Laurel, Mississippi, the Bok Homa – located 80 miles to the south in Sandersville – is the site of the Choctaw tribe's newest sportsbook. Of course, if you've already been betting at the Pearl River's Timeout Lounge sportsbook, this Bok Homa sportsbook review won't come as a surprise, as it's more of the same. Still, that's a good thing, because the folks at the Pearl River resort know how to run a great sportsbook, and now there are two of them in MS to choose from!
All that said, there's more than just sports betting at the Bok Homa casino in Mississippi. Established by the Mississippi Band of Choctaw Indians to supplement their thriving, sprawling Pearl River establishment to the north, the Bok Homa is a smaller venue oriented more towards local bettors rather than vacationers. Even though it's a smaller site, the Bok Homa is home of all the gambling amusements you expect, boasting nearly 800 traditional and modern slot machines, several weekly bingo tournaments, and classic table games like blackjack, Mississippi Stud, craps, and roulette. While there are no hotel accommodations on-site at the Bok Homa Casino, there are several affordable, comfortable lodging options within walking distance from the gaming center.
Is The Bok Homa Sportsbook Open For Business?
Yes, the Bok Homa sportsbook is open for business! Because the Pearl River Resort's Timeout Lounge has received rave reviews, it was simple to set up a similar operation at Bok Homa, which opened on Saturday, September 1, 2018. Most Bok Homa sportsbook reviews will point to the venue's cozy atmosphere, which features 13 HDTVs, a ticket counter where you can place your bets, and support for live, in-game betting. You can also enjoy mobile betting on the property's premises via the iPhone and Android PRRSPORTS app, and digital betting kiosks are available so customers can more quickly and conveniently place their wagers while present on the main gaming floor.
Bok Homa Casino Sportsbook Hours Of Operation:
Monday: 10 AM – 9 PM
Tuesday: 10 AM – 9 PM
Wednesday: 10 AM – 9 PM
Thursday: 10 AM – 9 PM
Friday: 10 AM - Midnight
Saturday: 9 AM - Midnight
Sunday: 9 AM – 10 PM
Does The Bok Homa Sportsbook Offer Full-Service Betting?
Yes, the Bok Homa sportsbook offers full-service sports betting in Mississippi. In fact, if it didn't, you wouldn't be able to find a decent Bok Homa sportsbook review anywhere on the Internet, as modern sports bettors have come to expect robust betting boards with thousands of daily lines to choose from. Fortunately, that's exactly what you'll get at the Bok Homa Casino.
As you probably expect, the Bok Homa sportsbook has action on all the games from all the top American sports leagues, including the NFL, the NBA, Major League Baseball, the NHL, and NCAA athletics (primarily football). Popular international sports are also supported, as soccer, cricket, rugby, and the like all have large US fan bases.
When it comes to wager types within those sports, the Bok Homa doesn't disappoint. You can put action on point spreads, straight-up wagers, over/unders (also called totals bets), player and team props, and even specials and futures bets. Best of all, the Bok Homa sportsbook offers live betting (aka in-game betting), so you can make wagers on many games while they're being played in real-time. At the Bok Homa Casino sportsbook, there are literally thousands of chances to win big each and every day!
Does The Bok Homa Sportsbook Offer Mobile Betting?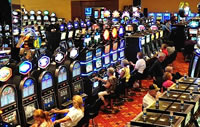 Yes, you can wager using your mobile phone via the Bok Homa's PRRSPORTS App. However, doing so is geo-fenced to the property itself, meaning that you have to be on the Bok Homa's actual casino premises in order to use the app to place bets. Of course, this shouldn't be a negative in any Bok Homa sportsbook review, as no Mississippi state has rolled out mobile or Internet-based betting yet. In order to do so, the MS legislature is actively working on a regulatory platform to handle this aspect of the newly-legal industry, though the state has not published an official timeframe for its implementation. Most analysts expect statewide online sports betting to launch before the start of the 2020-2021 NFL season.
In the meantime, if you wish to wager on sports over the Internet or via your smartphone or tablet (i.e. your iPhone, Android, or iPad), you can still do so in Mississippi, though you will have to join a legal offshore sportsbook. Fortunately, doing so is free, and you aren't breaking any laws by wagering at overseas sports betting sites.
What Is The Legal Minimum Age To Bet On Sports At The Bok Homa Casino?
The legal minimum age to bet on sports at the Bok Homa Casino is 21 years old. This is true whether you're wagering on sports at a tribal casino or a commercial casino in Mississippi. Bear in mind that if you elect to bet on sports at an offshore sportsbook over the Internet, you will only need to be 18 to sign up. Still, it is recommended that you always defer to any local laws in place, so the best thing to do here is to wait until you're at least 21 before betting on sports online.
Does The Bok Homa Sportsbook Offer Proxy Betting?
No, the Bok Homa sportsbook does not offer proxy betting. Proxy betting was initially created in the 1960s as a workaround of the Interstate Wire Act (1961), which bans bookmakers from accepting wagers across state lines. Instead of phoning in a bet, bettors would simply hire a third-party "courier" to place their wagers at casinos in person. While convenient, this loophole is widely regarded as too perilous for a reputable casino or sportsbook to deal with.
Some critics may want to count this as a negative in their Bok Homa sportsbook reviews, but it isn't the casino's fault. It is simply that the practice is dangerous from a business perspective, is outdated, and is mostly inapplicable in this day and age, particularly since online and mobile betting are coming to Mississippi. Still, these latter services will always be geo-fenced per the Wire Act, so out-of-state or international travelers will always be better served by using legal offshore sportsbooks to place their wagers remotely.
| Legal MS Sports Betting Sites | New Player Bonuses + Promos | Bet Now |
| --- | --- | --- |
| Bovada Sportsbook | $250 w/ 50% Match - Low Rollover | Click To Sign Up |
| BetOnline Sportsbook | $1K w/ 50% Match - Good For Life | Click To Sign Up |
| SportsBetting Sportsbook | $1K w/ 50% Match - Lifetime Bonus | Click To Sign Up |
| MyBookie Sportsbook | $500 w/ 50% Match - Welcome Bonus | Click To Sign Up |
| BetDSI Sportsbook | $500 w/ 100% Match - Lifetime Bonus | Click To Sign Up |