1st Jackpot Sportsbook Review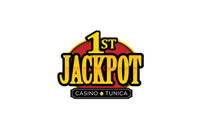 1st Jackpot Casino

Address:

1450 Bally Blvd., Tunica Resorts, MS 38664

Phone:

1-866-422-5597
The newest, most popular form of gambling to hit Tunica Resorts is sports betting, and if you've read even one 1st Jackpot sportsbook review, you know that this bookie is the real deal. With sports betting being in its relative infancy along the Tunica Strip, many bettors are curious as to which of the area's flagship venues will boast the best sportsbook in Tunica. And while you can't go wrong at any of them, the 1st Jackpot sportsbook is certainly right there at the top, whether you're a seasoned vet or a first-timer looking to just start off your sports wagering career.
In addition to their new sportsbook, the 1st Jackpot Casino Tunica is a fully-fledged, world-class gambling venue. The facility has a 40,000-square-foot main gaming floor featuring nearly 1000 state-of-the-art slot machines and almost two dozen table games (including blackjack, craps, roulette, Hold 'Em, and more).
Outside of gaming, the 1st Jackpot Casino Tunica offers several different restaurant options, including The Barn Prime for fine surf and turf and The Silo Eatery for burgers and the best onion rings in town. As far as lodgings are concerned, there aren't any onsite hotel rooms or suites at the 1st Jackpot Casino Tunica, but there are several nearby hotels to choose from, and there's also plenty of golf, swimming, and other activities on hand. Plus, with Memphis just 40 minutes away, you'll never run out of fun when playing in and around the 1st Jackpot Casino.
Is The 1st Jackpot Sportsbook Open For Business?
The 1st Jackpot sportsbook is open for business, as it was one of the first sports betting venues to go live in Tunica after the Supreme Court overturned the Professional and Amateur Sports Protection Act (PASPA, 1992). The Sportsbook betting area is right off the main casino floor, next to the Stage Bar, where you can enjoy great food and drink specials while watching the games of the day on 16 big-screen HDTVs. Generally speaking, the 1st Jackpot sportsbook hours are reasonably generous, with the following schedule being typical (though these hours may change slightly in accordance with different sporting seasons over the course of the year):
1st Jackpot Sportsbook Hours Of Operation:
Monday: 11 AM – 11 PM
Tuesday: 11 AM – 11 PM
Wednesday: 11 AM – 11 PM
Thursday: 11 AM – 11 PM
Friday: 11 AM – 11 PM
Saturday: 9 AM – 11 PM
Sunday: 9 AM – 11 PM
Does The 1st Jackpot Sportsbook Have Full-Service Betting?
Absolutely! In fact, not only does the 1st Jackpot sportsbook have full-service betting, it actually boasts one of the largest selections of sports to wager on in all of Tunica! At the 1st Jackpot sportsbook, you will be able to place spread bets, straight bets, over/unders, props, and futures on professional and college football, baseball, and basketball, as well as hockey, golf, tennis, racing, rugby, cycling, boxing, MMA, cricket, soccer, and more. For both national and international sports of all kinds, all the 1st Jackpot Casino reviews make your first choice clearer than ever for sports betting in Mississippi!
Does The 1st Jackpot Sportsbook Have Mobile Betting?
The 1st Jackpot sportsbook does not have mobile betting at this time, though that is no fault of their own. Until the Mississippi legislature finalizes their regulatory standards for overseeing the rollout of Internet sports betting in the state, online and mobile betting will be limited – as it has been for years – to legal offshore sportsbooks.
It is also worth noting that, though state-sanctioned local online sports betting is coming to Mississippi and the 1st Jackpot Casino in Tunica, those services will – as a matter of federal law per the Interstate Wire Act of 1961 – be geo-fenced, meaning bettors will have to physically be located inside the state in order to wager on these platforms. For travelers and the like, legal overseas sportsbooks will continue to be the best option for uninterrupted, smooth sports wagering. All of the top offshore books offer iPhone and Android mobile betting, as well, making them even more convenient and compelling.
Minimum Age To Bet On Sports At The 1st Jackpot Casino Tunica
The legal minimum age to bet on sports at the 1st Jackpot Casino Tunica is 21, and this is set by Mississippi state law for both commercial and tribal casinos. That said, all the online sportsbooks that currently serve MS residents only require their customers to be 18 in order to join and wager, though it is a good idea to defer to state law and wait until you're 21 regardless of whether you bet online or in person.
Does The 1st Jackpot Sportsbook Offer Proxy Betting?
Proxy betting was created long ago as a workaround to the Wire Act, letting bettors place wagers through third-party intermediaries who would put the slips and tickets in onsite on the bettor's behalf. However, the 1st Jackpot sportsbook does not offer proxy betting and has no plans to do so, as such tenuously legal "grey area" services are not conducive to the current regulated sports betting expansion taking place across America.
If you spend a lot of time outside of MS but wish to bet on sports regularly, you should probably ignore this 1st Jackpot sportsbook review. Instead, the best option is to simply sign up at a legal offshore sportsbook. These are not encumbered by or beholden to the Wire Act, and they aren't geo-fenced either, meaning you can use them to bet on your favorite players, teams, and sports no matter where you are in the US or abroad.
| Legal MS Sports Betting Sites | New Player Bonuses + Promos | Bet Now |
| --- | --- | --- |
| Bovada Sportsbook | $250 w/ 50% Match - Low Rollover | Click To Sign Up |
| BetOnline Sportsbook | $1K w/ 50% Match - Good For Life | Click To Sign Up |
| SportsBetting Sportsbook | $1K w/ 50% Match - Lifetime Bonus | Click To Sign Up |
| MyBookie Sportsbook | $500 w/ 50% Match - Welcome Bonus | Click To Sign Up |
| MyBookie Sportsbook | $500 w/ 50% Match - Welcome Bonus | Click To Sign Up |
| BetDSI Sportsbook | $500 w/ 100% Match - Lifetime Bonus | Click To Sign Up |