Harrah's Gulf Coast Sportsbook Review
Harrah's Gulf Coast

Address:

280 Beach Blvd, Biloxi, MS 39530

Phone:

800-946-2946
Harrah's Gulf Coast sportsbook is one of the newest sports wagering destinations in the nation. Nestled among the other venues in Biloxi, Harrah's is one of the anchors in what is fast becoming the Southeast's preeminent sports betting hub. To date, every Harrah's Gulf Coast sportsbook review has been a positive one, with guests of the venue thrilled to finally be able to place wagers on all their favorite players, teams, and sporting events.
In addition to sports wagering, Harrah's Gulf Coast also offers a traditional casino gambling experience. They've got a sizable gaming floor with dozens of classic table games, and you can choose from nearly 800 reel and video slots, as well. When you're done gaming at Harrah's, you can enjoy one of the property's several restaurants, including the fine-dining Magnolia House by Kelly English and the casual Mix & Mingle, an indoor/outdoor bar with a sports vibe, perfect for mixing and mingling with your betting tickets as you watch the day's big games. After a full day of gaming and entertainment, you can stay at Harrah's luxurious, newly-renovated on-site hotel, with both smoking and non-smoking options among the venue's 494 hotel rooms and suites.
Is Harrah's Gulf Coast Sportsbook Open To The Public?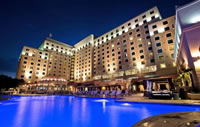 We wouldn't be able to put out an accurate Harrah's Gulf Coast sportsbook review if the sportsbook wasn't up and running. Indeed, the Harrah's Gulf Coast sportsbook is open to the public, as it was one of the first wave of Mississippi casinos to offer legal sports betting. To help newcomers to the pastime learn the ropes, Harrah's puts out a video series called Boss Bets with Dan Real and Jonathan Jones, which is filmed on site and includes weekly sports wager picks and strategies.
The Harrah's sportsbook, called simply The Book (as are all Caesars properties sportsbooks), is located in a newly-designed sports betting lounge just off the main gaming floor. There, you'll have access to comfortable couches and recliners while the games of the day are shown across 10 HDTVs and 12 giant screens that together make for a massive "video wall." And naturally, the Harrah's cocktail staff will be right there, too, making sure you stay adequately hydrated during all the contests.
Harrah's Sportsbook Hours Of Operation:
Monday: 10 AM - Midnight
Tuesday: 10 AM – 11 PM
Wednesday: 10 AM – 11 PM
Thursday: 10 AM - Midnight
Friday: 10 AM - Midnight
Saturday: 8 AM - Midnight
Sunday: 8 AM - Midnight
Does Harrah's Gulf Coast Sportsbook Offer Full-Service Betting?
If there's one thing every Harrah's Gulf Coast sportsbook review has in common, it's the universal praise for The Book's comprehensive betting options. The Harrah's sportsbook offers full-service single-game and parlay betting, which is what most in the industry refer to as "Vegas style." This means that just about every game of every major US league is represented, from the NFL and the NBA to Major League Baseball, the NHL, the NCAA, NASCAR, and more. Additionally, international sports are on tap, including cricket, rugby, soccer, MMA, boxing, tennis, golf, and much more.
Of course, the variety at the Harrah's sportsbook runs deeper than just the games you can bet on – you also have a ton of wager options for each and every matchup on the docket. You can place standard wagers like spread bets, straights, and totals (or over/unders), but you can also place player proposition bets, team props, and futures. On any given day, the Harrah's Gulf Coast sportsbook will offer several thousand wagers, though with live betting added to the mix, your chances to win big at sports betting in Mississippi skyrocket even more.
Does Harrah's Gulf Coast Sportsbook Offer Mobile Betting?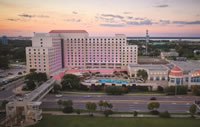 Currently, Harrah's Gulf Coast sportsbook does not offer mobile betting, nor does it offer online betting for Mississippi residents. This is wholly due to the slow rollout of online Mississippi sports betting by MS legislators, who seem to be taking their time in crafting the language of the regulations that will set the framework for Internet-based wagering in the state. By most accounts, MS lawmakers should legalize statewide online sports betting by mid-2020. Until then, Harrah's is free to launch an iPhone or Android mobile sports betting app, but its functionality would be practically nil, given the fact that it would be geo-fenced to the property itself. If your goal is to wager with the Harrah's book from the comfort of your own home, you will not be able to do so until new state laws are passed.
However, you don't actually have to wait for Harrah's to offer its own online betting or mobile betting services. Instead, if you want to bet on your iPhone or Android device from elsewhere in the state, you can simply join an offshore sportsbook that serves MS residents. There, you can wager legally over the Internet 24/7, and all of the top sports betting sites have mobile-optimized web pages. Whether you have an iPhone, Android smartphone, iPad, or another tablet product, as long as your mobile device has Internet access and a modern web browser, you can enjoy legal online sports betting from wherever you are.
What Is The Minimum Age To Wager On Sports At Harrah's Gulf Coast?
The minimum age to wager on sports at Harrah's Gulf Coast is 21, which is set by state law and applies to all gambling at Mississippi casinos. While you are technically able to bet at online, offshore sportsbooks as long as you're 18 years old, it is best to defer to state laws when such exist. So, even though all the top online sports betting sites operate outside the scope of US jurisdiction, it is nevertheless advisable that you only sign up for such services once you're at least 21 years of age.
Does Harrah's Gulf Coast Have Proxy Betting?
Most Harrah's Gulf Coast sportsbook review articles and social media posts bring up the issue of proxy betting, which is a workaround of the old Federal Wire Act. Because the Wire Act disallows sportsbook operators from accepting bets across state lines, proxy betting services would provide an onsite representative to place bets on your behalf. That said, the practice is not common these days, and Harrah's Gulf Coast does not have proxy betting services.
If you wish to wager from out of state, even once Harrah's Biloxi location puts its sportsbook online and makes it accessible to everyone in the state (which is coming, per rumors re the state legislature), you will have to use a legal offshore sportsbook to do so. The Wire Act mandates that all states – even those that offer legal online betting from their regulated vendors – only allow wagers from bettors physically located inside the given state's borders. This is why using legal online sportsbooks located overseas will always be the best option for Mississippi residents that do a lot of traveling throughout the US and/or the rest of the world.
| Legal MS Sports Betting Sites | New Player Bonuses + Promos | Bet Now |
| --- | --- | --- |
| Bovada Sportsbook | $250 w/ 50% Match - Low Rollover | Click To Sign Up |
| BetOnline Sportsbook | $1K w/ 50% Match - Good For Life | Click To Sign Up |
| SportsBetting Sportsbook | $1K w/ 50% Match - Lifetime Bonus | Click To Sign Up |
| MyBookie Sportsbook | $500 w/ 50% Match - Welcome Bonus | Click To Sign Up |
| BetDSI Sportsbook | $500 w/ 100% Match - Lifetime Bonus | Click To Sign Up |